As we have seen in previous articles
, sorting out colour-clashes in GAA in the 1960s was not an easy task (not that it is exactly a walk in the park now, of course). In the recent past, meetings of Clare and Tipperary have not seen any action taken, except for the 1993 Munster hurling final, when both counties changed, and the '98 football semi-final replay, Clare wearing white after both counties had worn their normal strips the first day.
It might come as a surprise to many to learn that Clare actually wore predominantly blue jerseys for a period in the 1960s and that, despite the closeness of that kit to Tipperary's, a change was not automatically ordered for the 1967 Munster final between the counties. As is often the case with these archive pieces, the Irish Independent's John D. Hickey is the author of the pieces.

A clash of colours in the Munster final (Irish Independent, July 26, 1967)

Clare ask, 'Why us?'

By J. D. Hickey

CLARE COUNTY Board Secretary Michael McTighe was informed yesterday by Munster Council Secretary Sean McCarthy that it will be necessary for the "Banner" County to change their jerseys – blue with gold collar and cuffs (top right) – for the Munster senior hurling championship final at Limerick Gaelic Grounds on Sunday against Tipperary, who wear blue jerseys with a broad gold hoop (bottom right).

Mr. McTighe told me that the matter would be discussed by officers of the Clare Board last night but, he added, it was unlikely that they would come to a hard and fast decision on the instruction from the Provincial Secretary as a meeting of the County Board is scheduled for tonight. The County Secretary, however, left me in no doubt that he did not take kindly to the direction.

"Every time we have played Tipperary over the past three or four years," said the Clare official, "we have worn the blue jerseys with the gold collars and cuffs, and it is strange that we are told we will have to change for Sunday's final. In the 1964 and 1965 Munster championship and again in the 1965-66 League semi-final at Croke Park we wore our blue jerseys with the gold collars and cuffs, and Tipperary were in their usual blue and gold and there was no confusion whatever."

SAW ENOUGH

Mr. McCarthy told me that although he does not get much opportunity of seeing Munster championship games because of all the calls on his time, that he saw enough of the last championship match between Clare and Tipperary to convince him that there would be bound to be confusion if both counties wore their customary colours on Sunday.

"I told Clare," he added, "that their colours were a gold jersey with a wide blue hoop (below left), the reverse of Tipperary's."

About five years ago Clare changed from the gold jersey with the blue hoop to the present one, and it is quite understandable that they should be unwilling to cast aside the blue with gold collar and cuffs for Sunday's vital game, their most important engagement in over a decade. They, naturally, have a deep attachment to their resent gear and, unless I am greatly mistaken, they will not lightly surrender it.

Mr. McCarthy's stand on the matter is also entirely reasonable. As Mr. McTighe has pointed out there have been important matches between the counties with both attired as they propose to tog out on Sunday, but no one can challenge the statement that it would be better for everyone, the players, the spectators and the referee if they were not so similarly togged.

Clare, not unnaturally, ask "why should we be the side to change, why not Tipperary?" Mr. McCarthy, in instructing Clare to change was, one presumes, influenced by the fact that Tipperary's blue with gold hoop was in existence for decades before Clare altered their pattern.

But it is the colours, not their arrangement, that a county registers and Clare have kept within the letter of the law, adhered rigidly to blue and gold when they decided to re-style their jersey.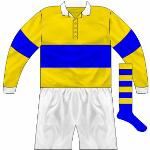 NO RULE

As there is no rule covering a clash of colours in competition within a province, Clare may well dig in their heels and insist that they are fully entitled to line out in the blue jersey with gold collar and cuffs.

If they do there is not much anyone can do about it, but I sincerely hope that the foresight Sean McCarthy has shown in trying to prevent a clash of colours, and clash there is, bears fruit.

As every games follower well knows a change of jersey can often for a time render a player anonymous, but despite that circumstance I hope that it will be easy, not difficult, to distinguish the rival players on Sunday

So many counties have similar colours at the present time that I commend to the powers that be a look at the whole matter of county colours. Goodness knows there are enough colours in existence to ensure that each of the 32 counties would have distinctive jerseys.

Colours are so venerated in some counties that there might be an uproar if they were asked to change, but there are many counties which can scarcely have much veneration for the colours they sport, so few and far between have been their successes in them.

Clare will not change jerseys (Irish Independent, July 27, 1967)

CLARE CO. BOARD decided at a meeting in Ennis last night that their county team would wear the blue jerseys, with gold collars and cuffs, in Sunday's Munster S.H.C. final at Limerick against Tipperary, who wear a blue jersey with a wide gold hoop.

On Tuesday the Clare Co. secretary, Mick McTigher, was instructed by Munster Council secretary, Sean McCarthy that the "Banner" County would have to change their jerseys for the game because of a clash of colours.

The Clare Board, however, decided last night that it would cause more confusion if they were to return to their previous jersey, gold with a with a wide blue hop.

Asked for his views on the Clare decision, Mr. Sean McCarthy said: "Well, that's that. I did all I could to prevent a clash of colours."